The challenge:
Area sweeping normally generates dust around the brushes and in the outgoing air from the machine!
Sweeping normally leaves the surface not completely clean from dust
When adding water together with brushing, to reduce swirling dust in the air, the finest dust is "painted" to the ground
Our solution:
DISAB introduce a new technology with a high vacuum cleaning system built into a Road sweeper
A unique 4-step filter separation to secure a dust free cleaning through the entire cleaning process, resulting in a completely dust free surface/area
Even smaller particles than PM10 is sucked up and is not blown out in the air again
Water free, no "painting" of the finest dust on surface, vacuum sweeping even during wintertime
With the advantages of high vacuum technique DISA-CLEAN is also very efficient under wet conditions, and leave the area clean and nearly dry after vacuum sweeping
Extreme capacity of dust and particles removal
Very little time spent on daily cleaning and service of the machine means optimized productivity
Easy control system let the operator focus on cleaning for better results and safety
As a free option the DISA-CLEAN is also a powerful Vacloader, ready to suck all different types of material (water, stone, sand, cement etc.), with an 8 inch hose connection.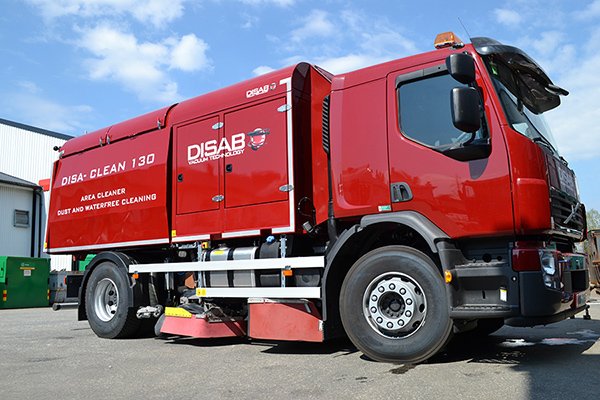 Whether you require a tailor made solution, want to hire one of our industrial vacuum units or simply wish to discuss your requirements in more detail, call us on 01737 246 649 or use the button below to enquire online.