Centralised Vacuum Systems
Industrial Central Vacuum Systems: Cost effective solutions for zero waste
Centralised Vacuum Systems
Central Vacuum Systems are simple and cost effective ways to make waste removal faster, easier and much more efficient.
Central Vacuum Systems have multiple applications in many different industrial settings. For instance our central vacuums have been installed in  power stations/EFW, aggregate and asphalt plants, brick/tile manufacture, cement works, steel works, grain mills and many more.
Our powerful vacuum systems can be linked to a variety of vacuum units and a range of discharge methods can be selected to suit individual operational requirements.
Powerful & flexible cleaning
With a DISAB Central Vacuum System you are guaranteed powerful and flexible cleaning solutions. Strategically placed inlet valves are installed in different areas and on different levels, around a site. Consequently, flexible hoses can then be connected to these ports and operatives can clean away quickly, using powerful vacuum suction. The dust and debris is removed through a system of pipes, with minimal fuss and risk of dust exposure and carried back to one central location. This dust can then be safely removed from site, or if this material is of value it can be returned back into your process.
This straightforward solution can greatly expand your cleaning range allowing access to even more areas – both vertically and horizontally; extra floors, stairwells, even other buildings. In addition it enables your team to access all those awkward catchment areas i.e. down in pits, under conveyors, amongst machinery, up on ledges, ducts and pipework etc. You can also have more than one operative using the system in different locations at the same time.
A Centralised Vacuum System can provide pipework from as little as 10 metres up to 3000 metres, either fully fitted by our expert engineers, or as supply only for your own installation.
In short using a DISAB Centralised Vacuum can improve Health & Safety, Reduce Waste, Cut Downtime and Save Money. 
ATEX compliant & HEPA filters
DISAB UK are professionals in the manufacture of ATEX compliant central vacuum systems and cleaning machines.
All DISAB our systems can be fitted with HEPA filters for absolute filtration of harmful dust and can also be provided ATEX compliant to handle toxic and hazardous materials where required.
Norfolk Environmental Waste Services Case Study
"The new Centralised Vacuum System has been tailor-made for our plant to give us maximum flexibility, more suction power and a direct feed for the dust, depositing it into our waste bay."
"With 4 inlet valves around the ground floor and another 5 on the first storey, the cleaners who are scheduled to clean up after each of the two main 8-hour shifts only need to carry a suction hose to wherever they need it, attach it to a suitable valve, and carry on cleaning." 
David Lake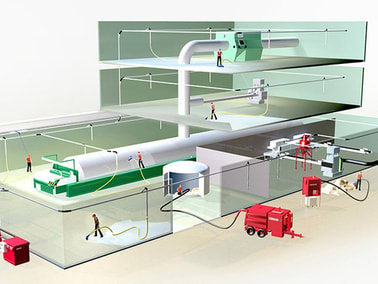 Summary of benefits
Simultaneous multi-operator access, in different areas and over numerous levels
Fully enclosed system keeps harmful dusts and waste contained
Minimises production downtime
Waste material fed back to one central location and various waste discharge options are available for easy disposal into skips, bins, onto conveyors, or back in to process – saving time and money
Highly skilled engineers that can remodel or replace unsuitable existing systems, or install new ones from scratch
Fast on the spot cleaning power for immediate cleaning solutions
Eliminates manual handling and other associated H&S issues such as poor air quality
Range of tools and nozzles available to attach to flexi hose allowing access to hard to reach areas
Talk To Us Today
Whether you require a tailor made solution, want to hire one of our industrial vacuum units or simply wish to discuss your requirements in more detail, call us on 01737 246 649 or use the form below and we'll get back to you.
Gypsum Industries
"With DISAB UK's advice and direction, a centralised vacuum system was installed throughout the crushing plant, including inlet valves for suction hoses at all five levels of the Sampling Tower. A CompVac™ provides the suction power. The flexible hose system enables 4", 3" and 2" hoses to be coupled up to extension pipes and nozzles, and all the gypsum dust is now removed easily, quickly and safely, and all of it is recycled back into the process."

Mole Valley Feed Solutions
"The new fixed vacuum system needs just one main pipe that extends 110 metres around the mill to 14 connection points. The actual suction is as good at the top of the mill as at the bottom, and at six storeys high, that's very impressive."

Forth Ports
"We use the centralised vacuum system almost every day. Because the SkipVac™ is powering the pipework system as well, anyone of our operatives can deal with both dust build up and spillages, wherever they occur. This means our efforts to maintain our high housekeeping standards in line with TASCC are now less onerous."

Cory Environmental
"The installation of the centralised vacuum system has made all the difference. We can go to any part of the plant wherever spillages are heaviest, or wherever dust needs to be removed. All we have to do is plug in the suction hose to an inlet valve and it's a simple job to remove whatever dust or waste needs to be dealt with. The levels of housekeeping and tidiness are much higher, and all the waste goes to residual bins via the centralised pipework system, and is usually able to be recycled back into the process."

BSW Timber
"The centralised vacuum system is much more powerful, sucks all waste into the grading area, and is even easier to use. We now have a much higher standard of housekeeping. The HSE take note of our investment in dust cleaning technology, as it demonstrates our progressive attitude to dealing with air quality, manual handling issues and operative safety. Compared to doing things manually, a powerful centralised vacuum system is a 'no-brainer' for a modern safety and environmentally conscious sawmill."