INDUSTRIAL VACUUM SYSTEMS
DISAB UK are the market leaders in the manufacture of high powered portable fixed and centralised vacuum systems designed for multiple industrial uses. We supply a range of industries with solutions to manage dust, waste removal, spillage control and deep cleans.
Established over 30 years ago, DISAB industrial vacuums are the perfect solution for dust and waste removal, as well as spillage control, deep cleans and for the collection of hazardous or toxic dusts.
Our high quality waste removal solutions are used across a range of industrial settings including ports, foundries & steelworks, power stations, quarries & mines, waste recycling, wood processing, concrete manufacture, building materials, paper and textiles.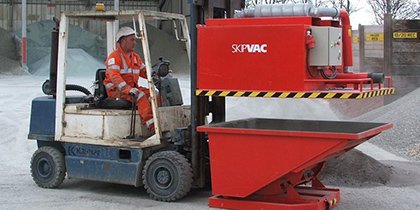 Powerful yet compact, our self-contained units provides high levels of vacuum power that can pick up fine dust and waste up to 40mm.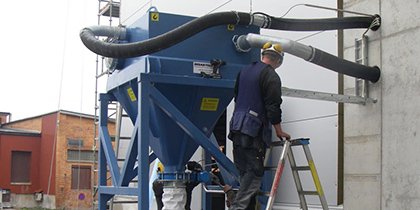 Our centralised vacuum systems are an excellent way to make waste removal faster, easier and much more efficient.
Heavy duty industrial vacuum systems for multiple uses
We design and manufacture a range of industrial vacuum units and equipment, supplying companies both large and small in a variety of industrial sectors. Whether you have dust, or silica issues (COSHH Control of Substances Hazardous to Health), process spillage, cleaning or housekeeping requirements, our systems provide the solutions you need for safe dust and waste removal, spillage recovery, closed-loop recycling, pre-inspection clean ups, shutdowns and deep cleans.
We've made it our mission to help customers improve Health & Safety and Housekeeping standards for COSHH, WEL (Workplace Exposure Limit), Occupational Exposure Standards, MEL (Maximum Exposure Limits) FEMAS, TASCC, AUKM, Environmental Agency permits, ISO 9001, ISO 14001 and so on. Our equipment is available for short or long-term hire, or for purchase, depending on your individual requirements.

Whether you require a tailor made solution, want to hire one of our industrial vacuum units or simply wish to discuss your requirements in more detail, call us on 01737 246 649 or use the button below to enquire online.
"The installation of the DISAB centralised vacuum system has made all the difference. We can go to any part of the plant wherever the spillages are heaviest, or wherever the dust needs to be removed. All we have to do is to plug in the flexible suction hose to a conveniently located inlet valve, and it's a simple job to remove whatever dust or waste needs to be dealt with."
"The DISAB SkipVac is an excellent machine that's got capacity, reliability and is easy to empty. It's also easy to move around with a forklift. It handled 2-3 tonnes of flux slag quite happily and didn't need emptying every five minutes. But what we really liked was its suction power."
"The Callow Rock Quarry operation has been using a DISAB BagVac for 10 years, and with regular servicing, the unit's still going strong and helping the team remove around a tonne or two a week of limestone dust and spillages from around their plant and site."
"The SKIPVAC system's very easy to use, and we're now achieving a much cleaner, better workplace and environment as a result. The employee morale is higher, and they can see a direct benefit from their original submission of the Keystone project to the way they're now working. They've been able to make general regular housekeeping tasks much easier and quicker to fulfil, and are much more willing to do these tasks."
Bristol Port
"We're using our TrailerVac™ several times every week. There may also be occasional spillages that we need to suck up and, where appropriate, put back into the relevant storage bay. It's a constant part of our mission to provide top quality storage and grain handling facilities. We need to get access for cleaning as high as 25 metres up in the warehouse. With the TrailerVac™ providing the suction power on the ground, we've always found there's plenty of pull at the end of the hose. That makes dust removal at these heights and distances really easy, as well as being much safer for our employees. We're not just talking about the amount of pull when the hose is horizontal either; we're talking about 25 metres straight up!"