Norfolk Environmental Waste Services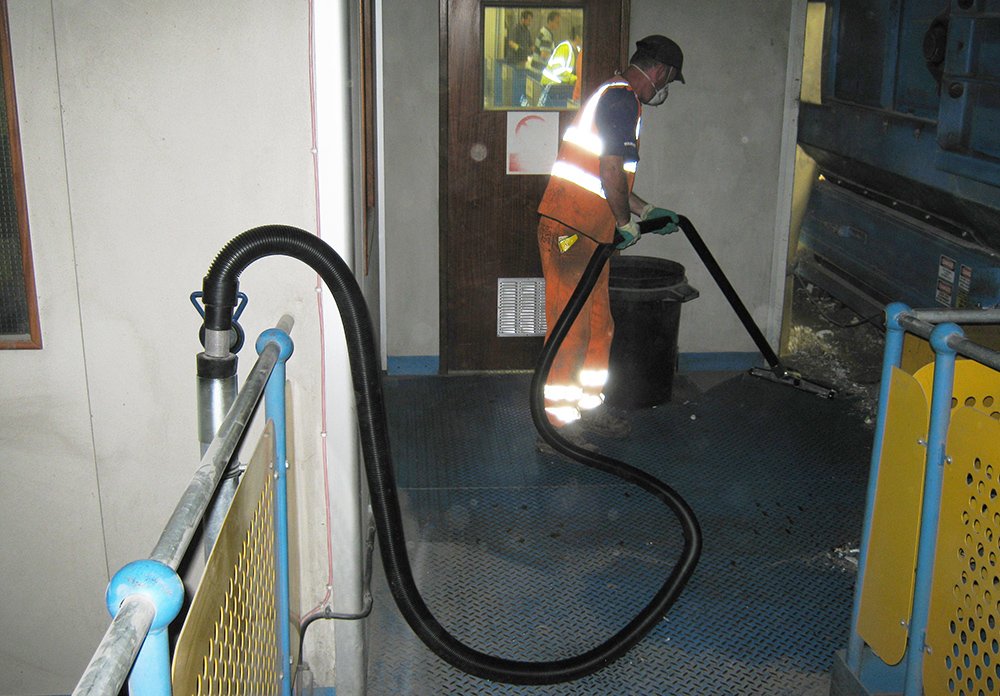 Project information
Project: Dry recyclable material removal
Client:  Norfolk Environmental Waste Services
Product: DISAB Centralised Vacuum System
Project Background
Norfolk Environmental Waste Services (NEWS) operates the Costessey materials recovery facility, which handles up to 100,000 tonnes of dry recyclable material a year. Dealing with all of this material, over 75% of which is paper and card, means that there is a lot of dust generated through the separation process. As the plant operates to a rigorous regime of quality, environmental and safety standards (ISO 9001, ISO 14001 and OHSAS 18001), the engineers at NEWS decided that they needed a solution that was as advanced and effective as their own recycling and processing plant.
Trialling a DISAB SkipVac™ for 6-months proved that a vacuum-based approach to dust was the right technical solution. However, cleaning the two-storey plant needed even more flexibility, ideally feeding all of the collected dust directly back into their waste bay. So, after conducting a full site survey, we recommended a Centralised Vacuum System based on inlet valves around each storey fed by 100 metres of 102mm pipework with massive suction power provided from a DISAB PacVac.
All of the waste and dust collected went via the 102mm pipework to a DISAB separator in the waste grading area and fed directly into the waste bay. The Centralised Vacuum System is also fully enclosed from nozzle to separator, minimising any dust exposure issues within the plant itself. This all adds up to a working environment where operatives don't need to wear masks all the time, which is far more preferable.
"The DISAB SkipVac did a great job of proving our point about installing a vacuum system. By comparison,  the new Centralised Vacuum System has been tailor-made for our plant to give us maximum flexibility, more suction power and a direct feed for the dust, depositing it into our waste bay."
"With 4 inlet valves around the ground floor and another 5 on the first storey, the cleaners who are scheduled to clean up after each of the two main 8-hour shifts only need to carry a suction hose to wherever they need it, attach it to a suitable valve, and carry on cleaning. With an extension pipe and special nozzles, this is now part of their scheduled daily cleaning routine. They now use the Centralised Vacuum System to clean in and around the cabins on the first floor as well, so they no longer need to haul smaller vacuum machines around with them."
David Lake
Product Features
Our central vacuum systems can be linked to a variety of vacuum units and a range of discharge methods can be selected to suit individual operational requirements.
All waste material remains are fully enclosed within the system and removed safely and efficiently, helping to fulfill Control of Substances Hazardous to Health Regulations 2002 (COSHH) requirements.
Central Vacuum systems allow for simultaneous multi-operator access, in different areas and over numerous levels. Meaning that production downtime is kept to a minimum.
Summary of benefits
Waste material fed back to one central location and various waste discharge options are available for easy disposal into skips, bins, onto conveyors, or back in to process – saving time and money
Highly skilled engineers that can remodel or replace unsuitable existing systems, or install new ones from scratch
Fast on the spot cleaning power for immediate cleaning solutions
Eliminates manual handling and other associated H&S issues such as poor air quality
Range of tools and nozzles available to attach to flexi hose allowing access to hard to reach areas
WHY DISAB?
CUT TIME AND SAVE MONEY
Waste removal is faster, easier and more efficient, less time is spent by operators cleaning and large capacity collection mean less time spent emptying too. So downtime is significantly reduced.
Large deposits can be sucked up quickly from virtually anywhere and safely disposed of, or recycled back into process. So, if recovered material is valuable, huge savings can be achieved.
Because our powerful vacuum technology removes fine particles from the atmosphere, there's far less dust to get into the moving parts of your plant or damage bearings, which will mean greater reliability, less downtime, and a longer shelf life for your equipment.
 IMPROVE HEALTH AND SAFETY
There's no need for lengthy, back-breaking manual collection. Thanks to our fully enclosed systems and highly advanced filters, harmful dusts are instantly removed and safely contained, minimising the risk of dust exposure to your employees.
Talk to us today
Whether you require a tailor made solution, want to hire one of our industrial vacuum units or simply wish to discuss your requirements in more detail, call us on 01737 246 649 or use the button below to enquire online.