Allglass: Airborne dust reduction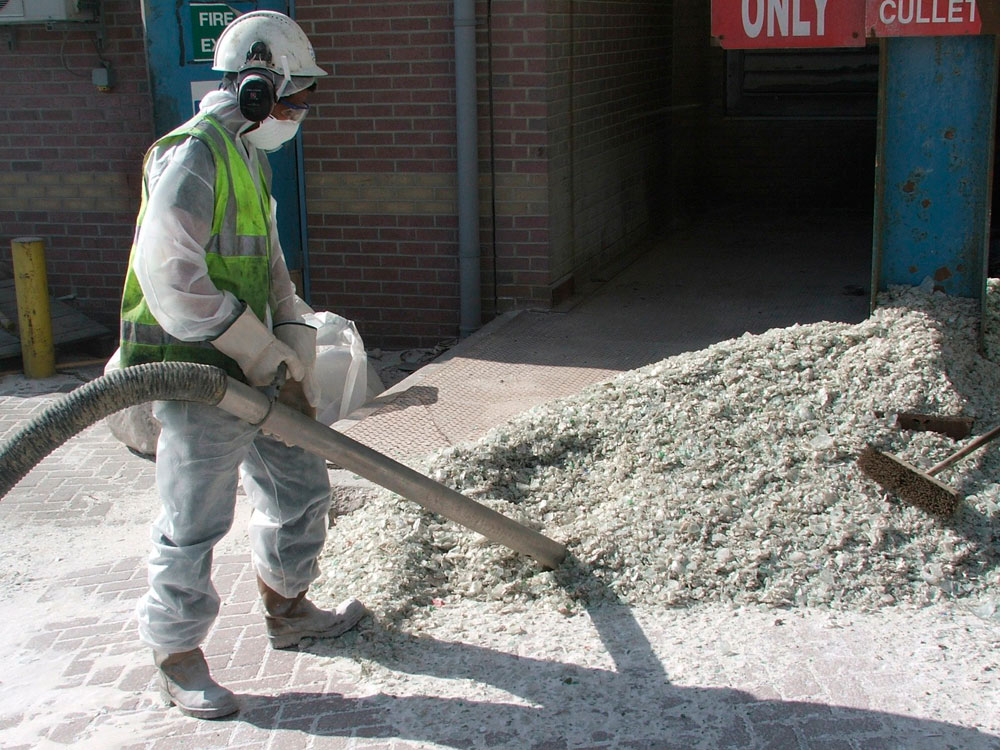 Project information
Project: Glass-based airborne dust and surface dust removal
Client: Allglass Reprocessors UK Ltd
Products: DISAB CompVac
Project Background
Since 2006 Allglass used manual techniques such as brooms, brushes and barrows to remove. This was a laborious task and whilst it worked for larger glass particles, the manual approach generated a lot of airborne dust particles.
Allglass has been working closely with the H&S Executive on the standards their sites needed to achieve in terms of the removal of both glass-based airborne dust and surface dust. Allglass soon recognised it was going to need a much more effective cleaning capability than its traditional manual approach.
Allglass acted on advice from the HSE and arranged a demo of, and then hired, a DISAB CompVac. Its vacuum power and capacity transformed the way they dealt with dust removal and thus exposure risks. Instead of sweeping and brushing, particles as fine as 10 microns up to 8mms were being sucked up with minimal effort and collected in the DISAB CompVac's large internal hopper.
"The DISAB CompVacTM is much faster than brushing and shovelling, but more to the point, it's a far more effective solution to our achieving the lowest exposure limits we can. With brooms and brushes there was a lot we couldn't do – the DISAB CompVac's changed all that."
"We now pass the H&SE's spot checks with flying colours, and more importantly, we're achieving really low MEL targets. That is much better and safer for all those who are in our working and production environments."
Product Features
From the cleaning nozzle to the hopper the whole of the CompVac system is fully enclosed, eliminating the risk of any of the collected dust escaping into the atmosphere, helping companies meet H&SE targets.
The DISAB CompVac provides the suction power and ability to vacuum in the hard to reach nooks and crannies where dust builds up."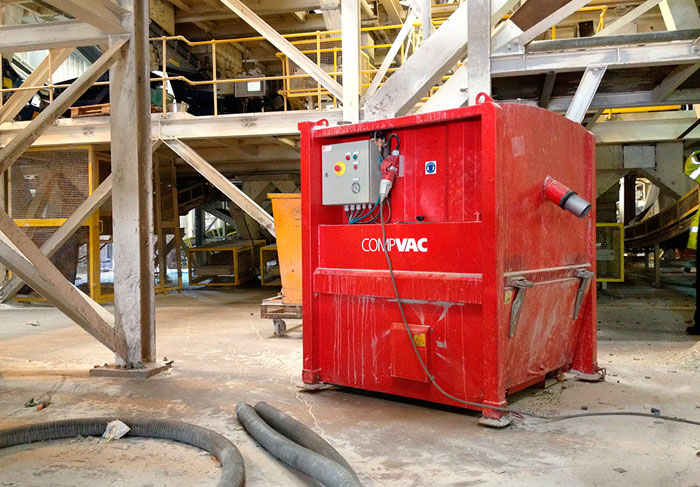 Product Overview
High suction capabilities, with 16.5kw of vacuum power.
Can pick up anything from fine dusts to debris up to 50mm in diameter.
Fully enclosed suction system allows even hazardous dusts to be collected safely
ATEX models available
Easy to manoeuvre by forklift
WHY DISAB?
 CUT TIME AND SAVE MONEY
Waste removal is faster, easier and more efficient, less time is spent by operators cleaning and large capacity collection mean less time spent emptying too. So downtime is significantly reduced.
Large deposits can be sucked up quickly from virtually anywhere and safely disposed of, or recycled back into process. So, if recovered material is valuable, huge savings can be achieved.
Because our powerful vacuum technology removes fine particles from the atmosphere, there's far less dust to get into the moving parts of your plant or damage bearings, which will mean greater reliability, less downtime, and a longer shelf life for your equipment.
 IMPROVE HEALTH AND SAFETY
There's no need for lengthy, back-breaking manual collection. Thanks to our fully enclosed systems and highly advanced filters, harmful dusts are instantly removed and safely contained, minimising the risk of dust exposure to your employees.
Talk to us today
Whether you require a tailor made solution, want to hire one of our industrial vacuum units or simply wish to discuss your requirements in more detail, call us on 01737 246 649 or use the button below to enquire online.