Dundee Energy Recycling Ltd: Dust & Debris Removal

Project information
Project: Dust & debris removal
Client: Dundee Energy Recycling Ltd
Products: CompVAC & BagVAC
Project Background
DERL is a pioneer in converting consumer and commercial waste into energy. One of the biggest challenges when dealing with and handling consumer and commercial waste is that even when you've got it into the waste processing system, there's a lot of dust and debris, and still more from the 'flock' that's generated as it's processed.
While this in itself is one thing, making sure you stay on top of it and keep the dust, debris and such cleaned up from around the incinerator and the site is critical, especially as there are high H&S and environmental standards like SEPA's (Scottish Environmental Protection Agency) and DSEAR to meet on a regular basis. That means making sure everything is in pristine condition, as far as possible, or your operating licence is at risk.
To manage the dust issues around the incinerator, DERL originally purchased a DISAB CompVAC which can easily be taken around the site using a forklift. Our powerful industrial vacuum was ideal for the quantities of dust and debris around the site. More recently DERL has hired a BagVAC, effectively a CompVAC with legs to accommodate a one tonne bag underneath, which has its own advantages when it comes to handling and emptying the tonne or so of dust and debris.
"The dust and debris issue had to be resolved, so we looked at various ways to do this. We'd been using brooms, brushes and barrows, and shovelling the waste and dust into bins, but it was completely unsatisfactory, making more airborne dust each time."
We were shown how effective the DISAB CompVAC was, and ordered one. We also made sure the sales engineer who came along got a very clear understanding of where the dust and waste was gathering, and which all needed to be accessed and cleaned up."
Product Features
DERL found that the CompVAC is a fantastic mobile dust management solution that can be forklifted at ground level and hooked up to a power point, where its flexible hose is then attached to the ground floor valve.
The Compvac has allows DERL operatives to manage cleaning in whichever level they need to work in and with the CompVAC switched on, more than enough suction is available to clean up all the dust and debris, all of which was sucked down to the CompVAC's hopper.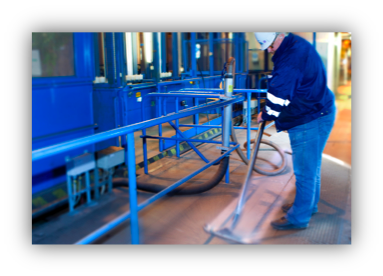 Product Overview
Removed manual dust processes
Saves time and energy
Helps DERL meet stringent H&S and environmental standards /li>
Reliable
Maximum vacuum efficiency
WHY DISAB?
 CUT TIME AND SAVE MONEY
Waste removal is faster, easier and more efficient, less time is spent by operators cleaning and large capacity collection mean less time spent emptying too. So downtime is significantly reduced.
Large deposits can be sucked up quickly from virtually anywhere and safely disposed of, or recycled back into process. So, if recovered material is valuable, huge savings can be achieved.
Because our powerful vacuum technology removes fine particles from the atmosphere, there's far less dust to get into the moving parts of your plant or damage bearings, which will mean greater reliability, less downtime, and a longer shelf life for your equipment.
 IMPROVE HEALTH AND SAFETY
There's no need for lengthy, back-breaking manual collection. Thanks to our fully enclosed systems and highly advanced filters, harmful dusts are instantly removed and safely contained, minimising the risk of dust exposure to your employees.
Talk to us today
Whether you require a tailor made solution, want to hire one of our industrial vacuum units or simply wish to discuss your requirements in more detail, call us on 01737 246 649 or use the button below to enquire online.