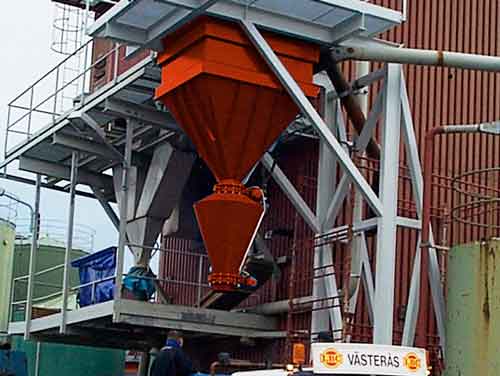 DISAB UK manufactures and distributes a wide range of
industrial vacuum systems
 and each system has a unique set of functions and features.
Centralised Industrial Vacuum Systems
 are particularly useful in large industrial settings that require large premises and large workforces. Keeping these operations efficient, clean and dust free working environments is a challenge and oftentimes employing a large team of operators and cleaning machines is not a cost effective solution. Centralised systems offer the perfect solution.
Features of a Centralised Vacuum system
Unlike portable vacuum systems, a central vacuum is a powerful fixed vacuum unit located in a specific part of the operation. Vacuum cleaning ports are placed strategically throughout, allowing flexible hoses to be connected at each port.
Our fixed vacuum systems can provide pipework from as little as 10 metres up to 3000 metres meaning that no matter how big your operation, every part can be cleaned quickly and efficiently.
Multiple operators can use the system at any time and in any part of the building and all dust is transported securely and safely outside the production area to a main collection point – minimising second hand airborne contamination.
Our central installations are extremely flexible: they can be used to clean production lines, floors, cable trays, pits, silos and much more.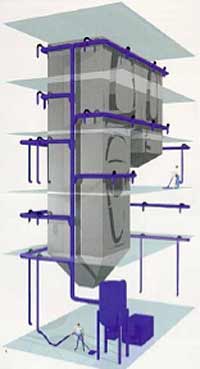 "Our new Centralised Vacuum System has been tailor-made to give us maximum flexibility, more suction power and a direct feed for the dust, depositing it into our waste bay." David Lake
Save time and money
Using a centralised vacuum system saves massive amounts of time. Quick access via the multiple inlet ports and the provision of powerful suction means operators can tackle difficult cleaning jobs quickly. Large deposits can be sucked up simultaneously from multiple locations. This leads to a significant reduction in downtime. In addition if the material is of value it can easily be recovered and reused.
Bespoke solutions
Whatever you requirements our expert engineers can design & install bespoke systems to suit industry, environment and budgetary needs. Our systems are available with a wide range of extraction attachments enabling your team to access awkward catchment areas.
All DISAB central vacuum systems can be fitted with HEPA filters for absolute filtration of harmful dust and can also be provided ATEX compliant to handle toxic and hazardous materials where required.
Improves Health & Safety
We ensure the correct, quality materials and right design are used to guarantee all waste material remains fully enclosed within the system and is removed safely and efficiently, helping to fulfill Control of Substances Hazardous to Health Regulations 2002 (COSHH) requirements.
Employees also benefit from moving to this type of system. Traditional manual housekeeping techniques are slow and often create harmful secondary dust. Using a fixed system creates a cleaner dust free workplace and creates a healthier environment for employees. Manual handling is also reduced, as operators no longer have to physically move waste material.
"With 4 inlet valves around the ground floor and another 5 on the first storey, the cleaners who are scheduled to clean up after each of the two main 8-hour shifts only need to carry a suction hose to wherever they need it, attach it to a suitable valve, and carry on cleaning.
Because it's easier as part of their scheduled routine, the cleaners are going around with the vacuum equipment more often and reaching all the places they couldn't get to before with ordinary equipment. As a result, the plant is cleaner and significantly more dust-free on a daily basis." David Lake
Summary of benefits
Simultaneous multi-operator access, in different areas and over numerous levels
Fully enclosed system keeps harmful dusts and waste contained
Minimises production downtime
Waste material fed back to one central location and various waste discharge options are available for easy disposal into skips, bins, onto conveyors, or back in to process – saving time and money
Highly skilled engineers that can remodel or replace unsuitable existing systems, or install new ones from scratch
Fast on the spot cleaning power for immediate cleaning solutions
Eliminates manual handling and other associated H&S issues such as poor air quality
Range of tools and nozzles available to attach to flexi hose allowing access to hard to reach areas
Why choose a DISAB Centralised System?
Customer endorsed service and support
We are recommended and trusted by hundreds of companies from a whole range of industrial sectors for experience, quality and reliability, service and support.
Leading UK Distributors
DISAB has an enviable global reputation and for over 35 years, the Group has designed and manufactured highly efficient vacuum-based technology that leads the market in delivering innovative and efficient solutions for all types of industries throughout the world.
Nationwide Support
With our Service Centre based in Manchester, we are centrally located to offer all our UK customers on site service and support. We offer a range of service packages to suit our customer's needs, including on site regular maintenance contracts, or repairs at our Service Centre.
Talk to us today
Whether you require a tailor made solution, want to hire one of our industrial vacuum units or simply wish to discuss your requirements in more detail, call us on
01737 246 649
or use the button below to enquire online.