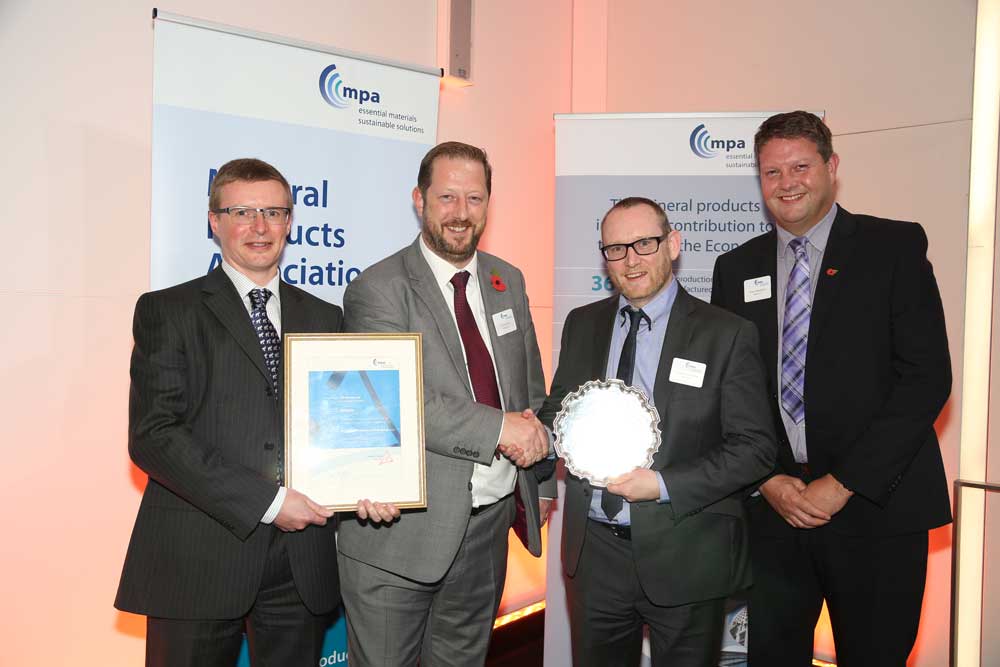 This month DISAB UK were delighted to be part of an award winning entry to this year's Mineral Products Association Health and Safety Awards.
The annual ceremony celebrates innovation & ingenuity to make the workplace a healthier and safe place and this year the 'Occupational Health and Well Being award' went to CPI Euromix.
Through our assistance and technology, CPI has been able to eradicate the presence of respirable crystalline silica (RCS) in all their operations. This is a significant achievement for the minerals industry and one that we are proud to be a part of.
Exposure to RCS can be a major cause of lung disease and be a significant risk to the wellbeing of those who work in the minerals sector. CPI has used our SkipVac portable industrial vacuum as part of their general housekeeping for some time. However, their external H&S inspection team recently flagged the risk of RCS passing through the SkipVac's exhaust system and standard filters.
Head of Operations Craig Buttenshaw tasked DISAB UK's MD Richard Eve to find a solution. The solution was to retrofit a SkipVac with an Absolut HEPA filter. This high level of filtration has lead to a dramatic reduction in RCS, to a level where they can no longer be detected by the measuring equipment.
Mr Buttenshaw said:
"I was hoping the modified SkipVAC would meet the HSE workplace requirements of less than 0.1mg/m3, but I was very pleased to be told by our independent inspection team that 'No RCS was found'. This is a real step forward in our goal to improve employee wellbeing, and we're now making sure all our SkipVACs are being modified with DISAB's Absolut HEPA filters."
All of the CPI Euromix SkipVacs have now been modified with the DISAB Absolut HEPA filter, reinforcing the company's reputation as a progressive employer that puts health and safety first.
Richard Eve DISAB UK's Managing Director said:
"It is always a pleasure to work with companies who take health and safety seriously and we were not just glad to provide the solution but pleased about CPI's recognition at the MPA awards. This modification makes the DISAB SkipVAC one of, if not the, safest industrial vacuum machine to use in workplaces where RCS is a risk factor."
This award is of particular relevance right now with the Workplace Healthy Lungs Summit about to take place in the next couple of days. The summit highlights the shift in emphasis that the HSE is now making on workplace safety and will describe what HSE is doing about tackling lung safety, what science and evidence can tell us and what employers can do about it.
Talk to us today
Whether you require a tailor made solution, want to hire one of our industrial vacuum units or simply wish to discuss your requirements in more detail, call us on 01737 246 649 or use the button below to enquire online.