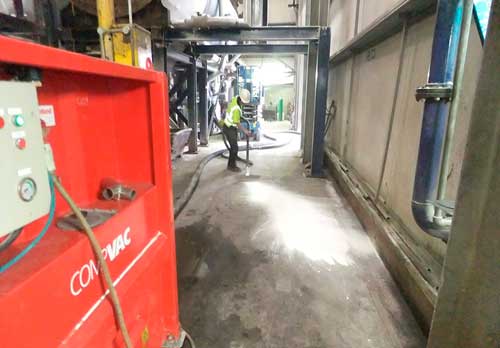 Industrial Vacuum Systems are widely used across a broad array of industries and sectors, and for good reason.
We highlight some of the most important benefits for incorporating an Industrial Vacuum Unit.
Save time and money on house keeping
Regular housekeeping is essential best practice for all industrial processes. Traditional methods such as sweeping are time consuming, labour intensive and are never fully effective at capturing waste material. Industrial vacuums such as the Skipvac help employees carry out housekeeping tasks to a much higher level. They simplify the process and make it easier for staff to reach all the areas that are often difficult to reach using conventional techniques.
"The SKIPVAC system's very easy to use, and we're now achieving a much cleaner, better workplace and environment as a result. The employee morale is higher, and they can see a direct benefit from their original submission of the Keystone project to the way they're now working. They've been able to make general regular housekeeping tasks much easier and quicker to fulfil, and are much more willing to do these tasks."
Labour saving
DISAB vacuums can provide suction over large distances with capacities up to 4 tonnes per hour – cleaning up in minutes what can take days to do manually. Consequently waste removal is faster, easier and more efficient meaning that less time is spent by cleaning operators. So downtime is significantly reduced. Saving time and manpower.
Recently we worked with Allglass who had historically used manual techniques such as brooms, brushes and barrows to remove airborne dust and surface dust. Acting on advice from the HSE they arranged a demo of, and then hired, a DISAB CompVac. Its vacuum power and capacity transformed the way they dealt with dust removal and thus exposure risks. Instead of sweeping and brushing, particles as fine as 10 microns up to 8mms were being sucked up with minimal effort and collected in the CompVac's large internal hopper.
"The DISAB CompVacTM is much faster than brushing and shovelling, but more to the point, it's a far more effective solution to our achieving the lowest exposure limits we can. With brooms and brushes there was a lot we couldn't do – the DISAB CompVac's changed all that."
Material cost savings
Large material deposits caused by industrial processes can be extracted quickly and safely disposed of, or recycled back into process. This recycling of lost materials back into the production cycle can lead to enormous cost savings.
Reduction in dust damage
Our vacuum technology is capable of removing very fine particles from the atmosphere, meaning that there's less dust to get into the moving parts of your plant and machinery. The knock on effect is that expensive equipment becomes more reliable and lasts longer. Saving you money on machinery costs and downtime.
Health and Safety
There's no need for lengthy, back-breaking manual collection. Thanks to our fully enclosed systems and highly advanced filters, harmful dusts are instantly removed and safely contained, minimising the risk of dust exposure to your employees.
Summary of benefits
Labour and time associated cost reductions through cleaning efficiencies
Fast on the spot cleaning power for immediate cleaning solutions
Cost and time savings due to improvements in plant effectiveness
Cost savings through production material reuse
Safe and efficient dust collection means a healthier indoor environment
Talk to us today
Whether you require a tailor made solution, want to hire one of our industrial vacuum units or simply wish to discuss your requirements in more detail, call us on 01737 246 649 or use the button below to enquire online.